Find match-day parking in England and Scotland
Footy Parking is a community driven source for match-day parking at stadiums around Britain. We cover top leagues in England and Scotland as well as the FA Cup, EFL Cup and UK based Europa Cup and Champions League ties.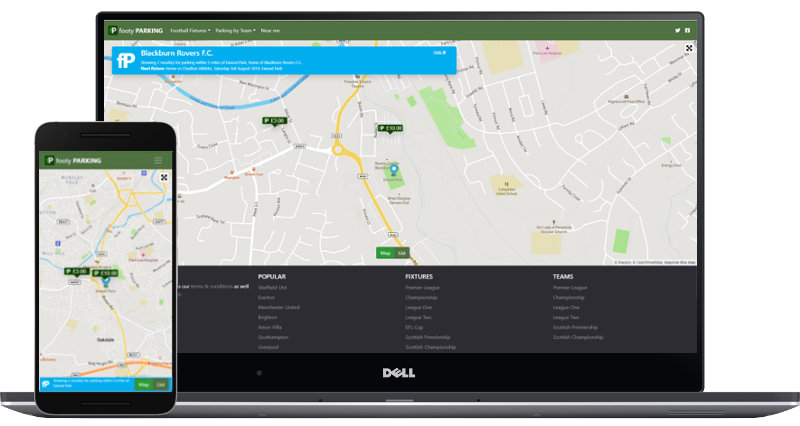 To find parking is simple:
Find your desired stadium from the league list on the right
Click on the team name to view parking/travel options
-- or --
Visit the Near me section to see all parking near your current location
We currently have 1,004 parking lots and growing!
Know somewhere to park for the match?
Add stadium parking for competitions throughout England and Scotland. If you run your own match day parking and want to add it then you will be provided the option to share your contact details. We run off suggestions from the community and all submissions are checked prior to addition to our database.
No sign-up is necessary to add parking but we will need an email address for verification purposes and protection against spam. A verification link will be sent to your email, and your address will be deleted from our database on soon as you click the link. Please see our privacy policy for further information.
Why use Footy Parking? How did it come about?
Footy Parking came about when I was visiting Bristol City last season. I researched parking in the area and I thought I'd found a few places I could leave my car. Unfortunately once I got there, I figured out that the locals probably knew of this car park already!
So I pulled over and did a little search and found local advice on parking specifically for football was quite sparse and cam the idea of launching a service to allow people to pass on their knowledge of parking around football stadiums in the UK.
Whether you're pre-planning your journey or you're stuck like myself in Bristol, hopefully some of the knowledge on here is useful. I have added some car parking at stadiums around the UK but if you are local to any of these areas then please do not hesitate to pass on your knowledge to others.
Soon you'll have the ability to review car parking on the site and leave reports on car parks that may be unsafe, non-existent or just generally unsuitable for parking during the game.
Best of all, there's no sign-up required to access this information; no passwords, no spam.